Zhigang Charles Wang, MD, PhD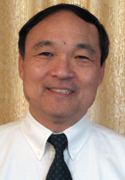 Assistant Professor of Surgery
Dana-Farber Cancer Institute
Brigham and Women's Hospital
Harvard Medical School
Boston, Massachusetts
2013-2014 BCRF Projects:
1) (The Play for P.I.N.K. Award)
Co-Investigators: Ross Berkowitz, MD and Ursula Matulonis, MD, Dana-Farber Cancer Institute and Brigham & Women's Hospital/Harvard Medical School, Boston, MA
With BCRF support, physicians and scientists have joined forces at the Dana-Farber Cancer Institute and Brigham and Women's Hospital to study the common genetic features of breast and ovarian cancers. This team believes that they can accelerate progress by studying these cancers together and hope to leverage discovery in one disease to benefit the other. The Dana-Farber/Brigham and Women's team is using all available information from collaborative clinical trials, publicly available data from consortia of investigators around the world, and unique technologies that they themselves and their collaborators are developing.
Drs. Berkowitz, Matulonis, and Wang published two research reports showing the burden of genetic mutations that accumulate in breast and ovarian cancers influence the outcome of treatment. Specifically, they found that cancers with higher mutation burdens respond better to certain treatments, and live longer without cancer. This work has already been cited in high-profile reviews and scholarly articles. In ovarian cancer and certain breast cancers, two drugs are particularly useful and interesting. The first one is cisplatin, a platinum-based chemotherapy, and includes several derivatives that are used in both breast and ovarian cancer. The second group of drugs is comprised of newer agents called PARP inhibitors, which target the ability of cells to repair damaged genes and DNA. This team believes that the ability of breast and ovarian cancers to quickly repair their damaged DNA confers resistance to these agents; cancers that cannot repair as well build up damage and are more likely to be killed. They will test this hypothesis in a clinical trial that will study ovarian cancer tissue from patients receiving both drugs.
Mid-Year Summary:
This team found that the amount of chromosomal damage in both triple-negative breast cancer and high-grade serous ovarian cancer predicted what the cancer response to cisplatin chemotherapy would be. The more unstable the DNA of the tumor is, the more sensitive to chemotherapy. "PARP" is an enzyme involved in aspects of DNA repair, and PARP inhibitors are now in clinical studies for the treatment of advanced ovarian cancer, specifically the high grade serous type. The researchers analyzed chromosomal patterns in an early-phase (Phase I) study of PARP inhibitors for women with advanced ovarian cancer. Investigators in Boston and other sites are completing a Phase II trial of PARP inhibitors (combined with another targeted drug), and this team proposes to complete genetic analysis of these cancers and relate their findings to the responsiveness of these cancers to PARP inhibitor treatment. They also located a very interesting genetic region which becomes altered in certain ovarian cancers and may cause or contribute to the cisplatin resistance that usually develops in ovarian cancer. They are excited to explore this genetic alteration further and to complete their study of the women participating in the PARP inhibitor trial.
2) (The Neil and Jane Golub and Price Chopper SuperMarkets Award)
Co-Investigators: J. Dirk Iglehart, MD and Andrea Richardson, MD, PhD, Dana-Farber Cancer Institute and Brigham and Women's Hospital/Harvard Medical School, Boston, MA
The research team at the Brigham and Women's Hospital and Dana-Farber Cancer Institute is a cross-discipline collaboration of a surgeon oncologist and two pathologists who are both PhD-level human geneticists. The team has investigated the genetics of breast cancer for the past ten years and has contributed important observations, made possible by BCRF funding. Last year, the Brigham/DCFI team investigated the role of a class of regulatory molecules called micro-RNAs, and uncovered interesting effects of these molecules on better known breast cancer genes and proteins, including the BRCA1 gene that causes hereditary breast cancer. The Brigham/DFCI group has also focused on the consequences of impaired repair of cancer DNA, or the cancer genome. Faulty repair leads to genome instability and to regions of chromosomal losses and gains. The result of genetic instability can be cancer, and this seems to be the reason why women with an inherited BRCA1 or BRCA2 mutation get cancer, they are missing important steps in DNA repair. However, faulty repair in the cancer cell can be an Achilles' heel, and cancers with faulty repair may be more sensitive to particular types of chemotherapy, and to new agents that actually target and disable aspects of DNA repair.
This coming year, the Brigham/Dana-Farber investigators will concentrate on this vulnerability in DNA repair, using new drug combinations, and novel technologies in the laboratory. This team has always been interested in triple negative breast cancer, characterized by genetic instability. Its disorganized genetic code is probably due to a defect in triple negative breast cancer's ability to repair its own DNA and restore order to its genome. The researchers propose three research approaches to triple negative diease: The first is to design a better combination of chemotherapy for treatment, taking advantage of the DNA repair vulnerability. The second is to look at predictors of response to chemotherapy, particularly in disease caused by inherited genes. The third aim is to look at genetic features of the actual repair of DNA damage cause by cisplatinum chemotherapy, looking for signatures of faulty repair. A number of important scientific papers have been published by this group and credit BCRF support.
Mid-Year Summary:
This team has team wondered whether the degree of instability and genetic unsteadiness displayed by triple-negative cancers might itself be a target of treatment. They pioneered the use of chemotherapy with a drug called cisplatin in triple-negative breast cancer, based upon this defect in keeping DNA free from damage. In their current work, they are testing other drugs that can be used in combination with cisplatin chemotherapy for the treatment of triple-negative breast cancer. These experiments uncovered unexpected degrees of synergy between combinations of cisplatin and other drugs that target important participants in DNA damage repair. During the remainder of this year, they will continue to develop these drug combinations, and are planning early-phase clinical trials with their BCRF collaborators at the Dana-Farber. In addition to developing new drug combinations, they also are seeking ways to predict which triple-negative tumors will respond to cisplatin chemotherapy. These predictors or "bio-markers" of treatment response require use of the resesarchers' extensive tissue bank of breast cancer specimens and active collaboration with physicians, including many BCRF investigators, who are doing innovative clinical trials for women with triple-negative breast cancer.
Bio:
Zhigang Charles Wang received his MD from Shanghai Second Medical University in Shanghai, China and his PhD in Microbiology and Immunology from New York Medical College. His resident training in pathology was completed at Rie-Jing Hospital in China and his post-doctoral training occurred at the Center for Blood Research at Harvard Medical School and at the National Institute for Dental Research. At the latter, he served as Senior Staff Fellow. Dr. Wang is an active member of the American Association for Cancer Research and currently an Assistant Professor of Surgery at Harvard Medical School, Dana-Farber Cancer Institute and Brigham & Women's Hospital.
Dr. Wang's research is interested in the genetics of breast cancer, with a particular focus on the heterogeneity of the disease which he studies through detailed mapping of chromosomal lesions and analysis of genes critical for its pathogenesis. He has worked closely with other BCRF grantees, Drs. Andrea Richardson and James D. Iglehart, to discover the high genetic instability and signature chromosomal alterations of a highly malignant subtype of breast cancer (the basal-like tumor). He has also discovered a significant association between copy gain of chromosome 8q22 and distant metastasis in breast cancer patients that received post-surgery chemotherapy. Furthermore, studies are underway to identify critical genes in this chromosomal region as therapeutic targets and prognostic markers.
Recently, he became interested in the genetic similarities between serous ovarian cancer and basal-like breast tumors. In collaboration with Drs. Ross Berkowitz and Ursula Matulonis at the Brigham and Women's Hospital and Dana-Farber Cancer Institute, he has begun a comprehensive genomic analysis of breast and serous ovarian cancer to discover the common chromosomal alterations and genes critical for the pathogenesis of both diseases.